The Minelab GO-FIND 44 is the second model in the GO-FIND series. A series of detectors that, in addition to the starters and the people who are looking for a backup detector, in our opinion is ideal for a whole new target group. We think of hikers, travellers in aeroplanes, campers, camper owners, GeoCachers, beach recreationists, etc. etc. In a few seconds, the Minelab GO-FIND folds out and back into an extremely compact package that fits in almost any backpack or suitcase. The search qualities are particularly good! The GO-FIND series has little or no problems with the so-called iron mask that many detectors in this price range suffer from. In short, this unique metal detector of Minelab is highly recommended!
ICON DESCRIPTION
If a metal object is detected, an icon flashes that indicates the material indication of the object.
If the icon is disabled (not visible), these objects will no longer be detected.
CONTROL PANEL
The GO-FIND 44 control panel has the following features/capabilities;
1) ON/OFF SWITCH
2) HEADPHONE INPUT
3) SENSITIVITY As the sensitivity increases, the detector detects more deeply but the risk of false signals also increases.
4) PINPOINT (only on GO-FIND 44/66) For locating the exact spot.
5) VOLUME
7) SEARCH PROGRAMS for detecting and rejecting metal objects
6) BACKGROUND LIGHTING (only on GO-FIND 40/44/60/66)
8) DEPTH INDICATION shallow | "semi-deep" | deep
9) FOUND IC0ONS (4x)
10) MATERIAL INDICATION Red and green LEDs give a quick indication of the detected object. (Only on GO-FIND 44/66)
11) BATTERY CONDITION
12) BLUETOOTH (44/66 only) audio output for 1/8″ connector and speaker on the back.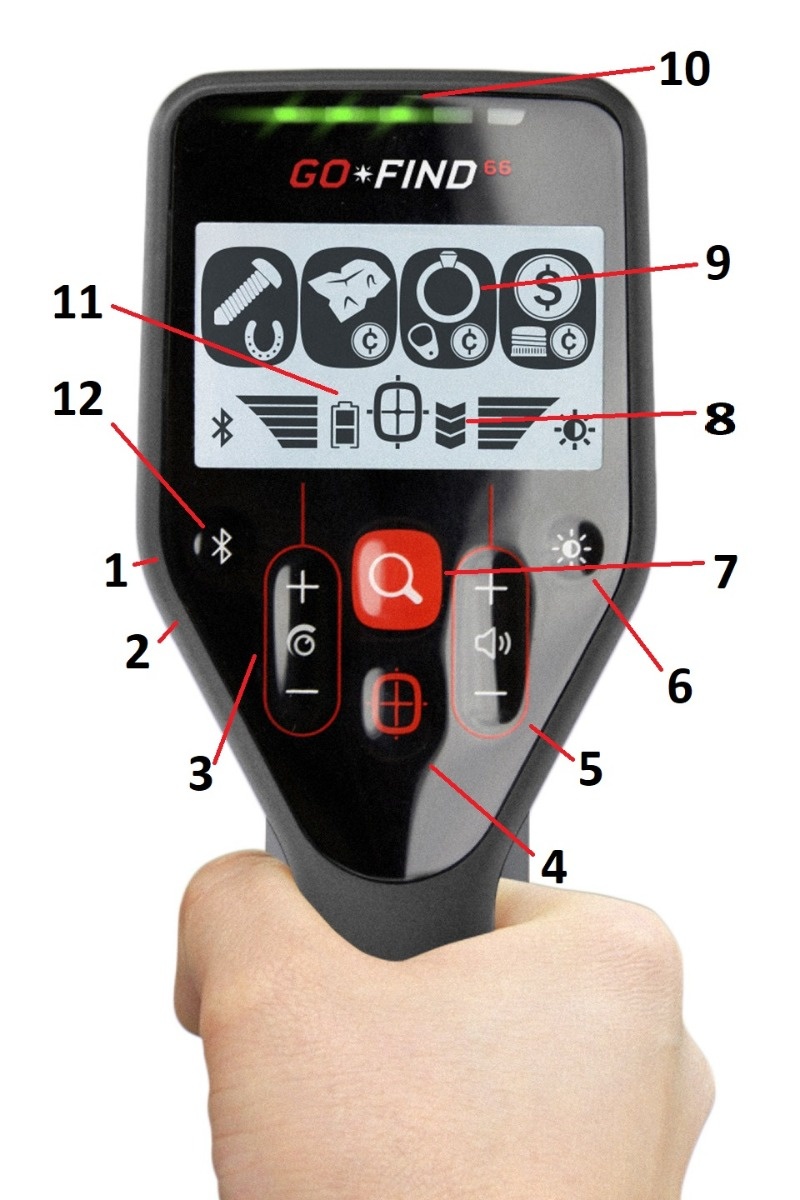 SEARCH PROGRAMS
With the search programs you can reject certain types of metal, so that you often do not have to dig for iron junk.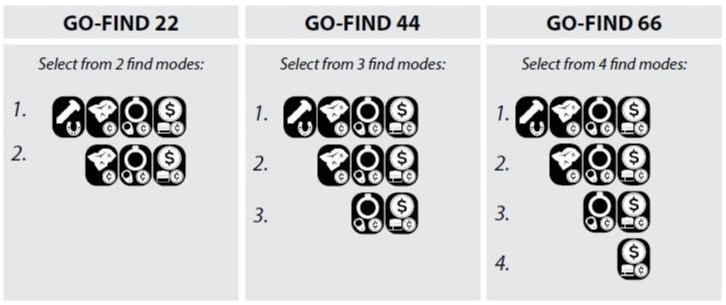 DETECTOR SOUNDS
The detector gives a sound when an object is detected.
The higher the signal, the greater the chance of detecting a non-ferrous object!
If headphones are fitted, the sound of the speaker is cancelled.

LOW TONE: Iron objects produce a low tone.
MIDDLE TONE 1 (GO-FIND 44/66 only): Some higher conductivity metal objects produce a "lower mid-tone".
MIDDLE TONE 2 (GO-FIND 66 only): Somewhat higher conductive metal objects produce a "higher middle tone".
HIGH TONE: Silver and copper objects, for example, produce a high tone.