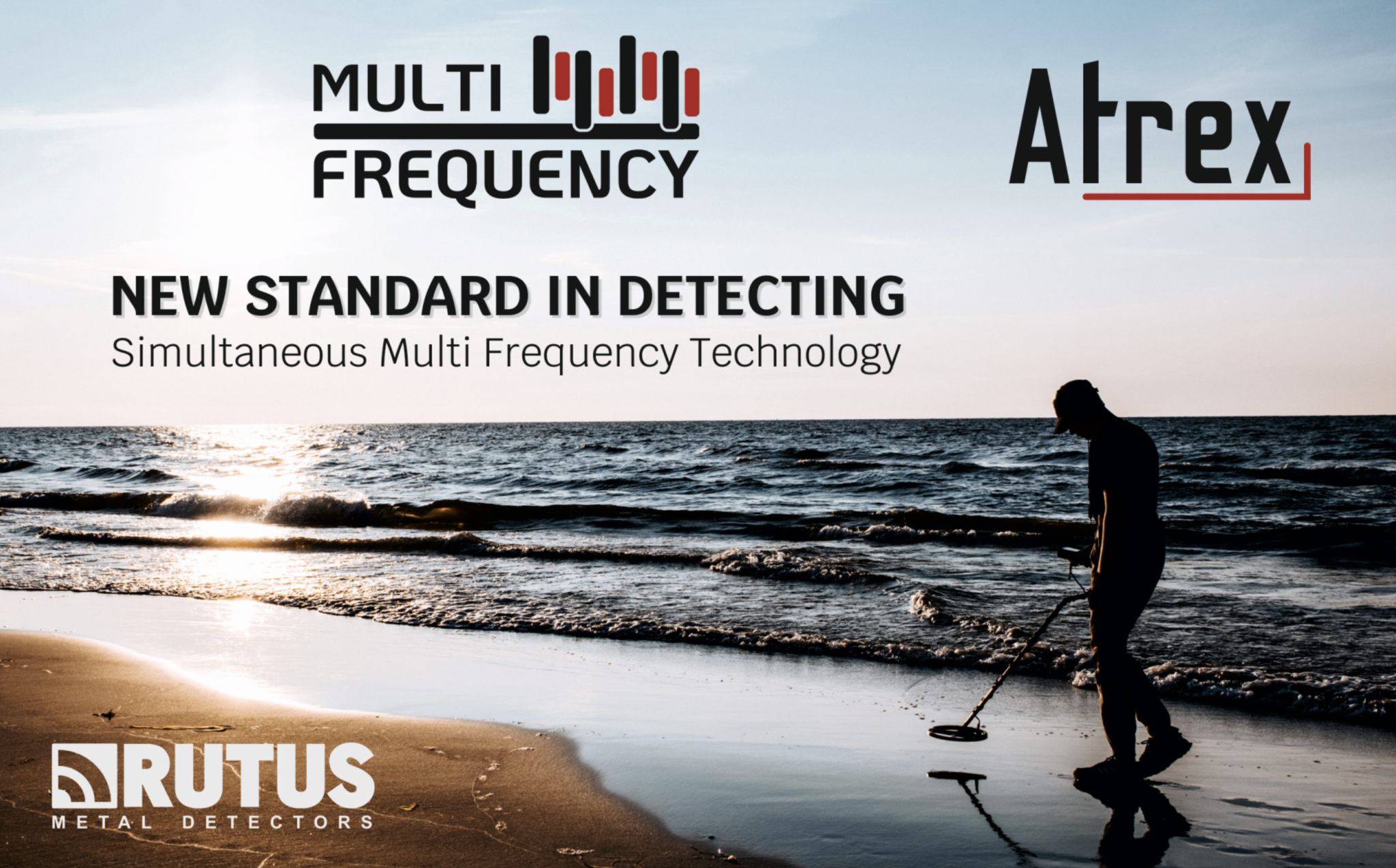 A metal detector where you can decide how advanced the software you will be running. If you are a beginner or you like "turn on and go" products then the recommended mode is "Basic". If you require full control of the device then the recommended mode is "Advanced". The Atrex comes preloaded with "Advanced" software, "Basic" is downloadable from the website and can be changed yourself thanks to the built-in WiFi module.
Simultaneuos Multi Frequency - technology that improves the detector's detection properties both in wet and conductive soils (on beaches) and in soils with high magnetite content. With Atrex, you can search on wet beaches, swamps and peat bogs just like you would on dry sand.
Multifilter - a function working "in the background" of the detector's normal operation. Significantly increases the effectiveness of the detection of non-ferrous metal objects in highly mineralised soils.
Water Reject - neutralisation the influence of water (salty as well as fresh) on the process of object detection thanks to two freqencies working simultaneously. With Atrex, you can walk on wet beaches, swamps and peat bogs just like you would on dry sand.
Electromagnetic interference preview screen - from now on, choosing the operating frequency will be easier.
 The new color display is very little susceptible to the effects of low temperature and always works just as fast.
Wireless headphones available separately. 
Built-in Wi-Fi module for software changes Built-in wireless WiFi audio transmitter.

WiFi receiver for headphones, battery life approx. 20 - 40 hours.

Weight with batteries (6 AA cells) - 1630 g.

Frequency adjustable between 4.4kHz and 18.4kHz in 0.2kHz steps  

Automatic Ground Balance 9 factory programmes + 5 users  

Motion with discrimintation options

All metal mode

DUAL mode, extremely deep!

99 levels of discrimination

ID-type range 0-120 or -90 +90 Notch ( 180 notch positions!)

Hot rocks elimination/recognition

Reaction speed 8 levels

Multifilter Noise level sample Water rejection Short signal masking 7 levels

Threshold level Threshold tone Threshold sensitivity ( all metal channels ) VCO (20 levels)

SAT Audio gain Iron volume 6 factory preset sound profiles + 3 user programmable sound profiles  

Volume adjustable  

Display backlight, adjustable brightness  
Choice of 2 different search discs:
The black 28 cm disc is a bit lighter in weight than the white 29 cm disc and is more suitable for 'all-round' purposes.
The white disc is a bit more stable, especially in the motion-non motion (Dual Mode) mode. This mode provides extra depth and in combination with the preset Ultra Deep it goes mega deep. Perfect for Militaria searchers. 
Wireless headphones available separately.